While there were undoubtedly short films of nudes before 1916, there were no major film productions featuring nudity. That changed when 'A Daughter of the Gods' was made by Fox Films.  It featured the then famous Australian swimmer Annette Kellerman.  Kellerman pioneered the one-piece swimsuit for women swimmers and is credited by some for inventing the sport of synchronized swimming.  In 1974 she was honored by the International Swimming Hall of Fame.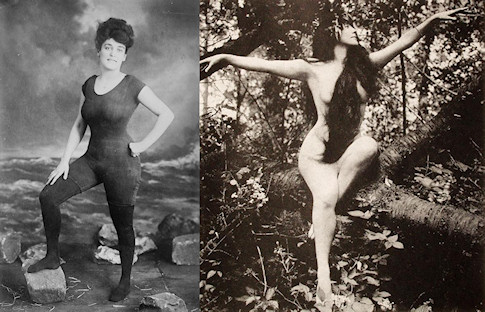 In 1907 Kellerman was arrested on a Massachusetts beach for indecency because she was wearing her fitted one-piece swimsuit.  As in modern times, notoriety can lead to stardom.  In 1911 she played the role of a mermaid wearing the first swimable mermaid costume in the movies.
Only one of her movies has survived, the 1924 "Prizma Color" film Venus of the South Seas.  Restoration was done by the Library of Congress in 2004.
Kellerman also authored several books, children's stories, and health promotion materials.  She died at age 89 in 1975.