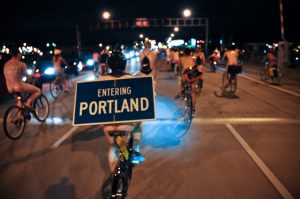 If you ride in the Portland Naked Bike Ride, it is an experience you will not forget.  The 2013 event was well attended, but at the time this was written an estimation on the number of riders had not been published.
The ride started at the Portland Art Museum, with the route and end points not announced to the media.  I presume this was done to avoid too many people gathering at any single location.  The end point did not loop back to the start as was done in previous years.  Departure time was a little after 10 pm.
Three of us went and we managed to stay together thru about 2/3 of the ride.  At that point, my bike threw the chain while I was in the middle of a mass of naked riders going uphill after an underpass.  By the time I worked my way to the curb and got the chain back on, I was a few minutes behind the others.  We got together at the end after some wandering about.
If you join the ride in the future, it's a good idea to have good bike lights, body lights (I had light sticks) and a phone for each rider.
See the official web site at http://bikeportland.org/2013/06/09/the-best-of-world-naked-bike-ride-2013-nsfw-photos-88136
Getting Ready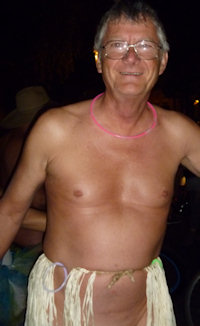 Stopping by Voodoo Donuts after the ride.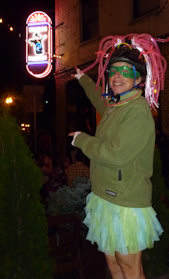 rb